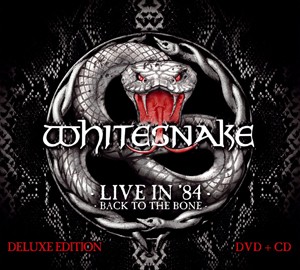 WHITESNAKE's LIVE IN 84 – BACK TO THE BONE,
New CD/DVD With Classic And Rare
Performances Available For The First Time!
Already Number One On The Japanese Charts
And Creating A Truly Unexpected Buzz Beyond Anything Anticipated Prior To The Release!
Classic WHITESNAKE Fans Worldwide Have Something To Be Truly Excited About!!!
To celebrate and commemorate the 30th Anniversary of WHITESNAKE's multi-platinum 'SLIDE IT IN' album, Frontiers Music Srl has released "LIVE IN '84 – BACK TO THE BONE", a complete celebration of the group's awe inspiring touring lineup during what many feel was the beginning of what COVERDALE called his desire to make WHITESNAKE more 'electrifying' on record and on stage.
The 'LIVE IN 84' CD and DVD release features audio and video recordings, unheard demos and unseen photos from the private collection of WHITESNAKE leader and vocalist, DAVID COVERDALE. This release offers an ultra-rare collection of material, performed by the band's acclaimed 83-84 line-ups. Featured on the record are the awesome COZY POWELL on drums (ex- Jeff Beck Group, Rainbow, MSG and later on Gary Moore and Black Sabbath, among others), unique virtuoso guitarist JOHN SYKES, whom Coverdale credits with inspiring a whole generation of six stringers after his breathtaking work on the WHITESNAKE '87' album, and Bassist Extraordinaire NEIL MURRAY.
Also includes heart-stopping bonus content featuring legendary keyboardist JON LORD (Deep Purple) performing his very last show with WHITESNAKE on video and also on the bonus CD.
"It's still hard for me to find the words when remembering that half of the incredible band who originally recorded the 'SLIDE IT IN' album with me have passed away," says COVERDALE. "It's incredibly difficult to articulate: COZY POWELL…MEL GALLEY…JON LORD…All amazing people and exceptional musicians performing at their best. Their memories live on in our hearts & in the music they made. I miss them beyond words… Wait until you see and hear them playing as only they can and add in the fiery guitar assault of the incredibly gifted JOHN SYKES, plus the relentless melodic bass pounding of NEIL MURRAY…"
To put this together, COVERDALE and Co-Producer MICHAEL McINTYRE launched a worldwide search for the best quality video footage and audio tracks from the 1984 tour. Among the gems found was a set from: 'Super-Rock', recorded at the first Japanese rock festival at Seibu Stadium in Tokyo and an invaluable video of JON LORD's final appearance with WHITESNAKE recorded live in Sweden. "All of the features on this package have been treated lovingly & respectfully, with no expense spared, utilizing technology to improve sound & picture quality," says COVERDALE, who personally oversaw all elements of this release.
Concludes COVERDALE, "These are memories I treasure and delight in sharing with you as we continue our celebration of the 30th ANNIVERSARY of WHITESNAKE's multi-platinum album 'SLIDE IT IN."
For all things WHITESNAKE, please visit: