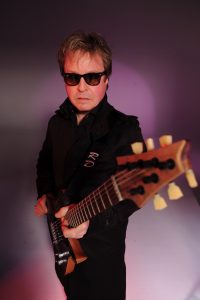 Rick Derringer burst on to the international music scene with his young band, The McCoys in 1965 with their first hit, Hang On Sloopy! Sloopy was the number one song in every country that sold records in 1965! The McCoys first U.S. tour had them opening for the Rolling Stones. The McCoys ultimately had seven songs that charted in the top 100.
In 1973, Rick and his band mates ultimately joined forces with blues rock guitarist Johnny Winter and the band was renamed Johnny Winter And… Rick was writer/producer of the Still Alive And Well album. The album was a critical and commercial success. Later that year Rick recorded his All American Boy album which included the ultimate rock song – Rock and Roll Hoochie Koo.
Following success with Johnny Winter, Rick produced Edgar Winter's platinum selling album – They Only Come Out At Night. The latter featured the No. 1 Grammy nominated monster hit, "Frankenstein" and the perennial favorite "Free Ride." Rick and Edgar went on to become band mates in the White Trash (band).
In 1976, Rick created the Derringer Band. He released four albums and in '83 returned to his solo career with the LP, Good Dirty Fun. Derringer continued to tour globally and opened for Led Zeppelin on the last two dates Zeppelin would ever play with the original members of the band.
Throughout the '80s, and '90s the popular Derringer appeared on numerous albums with artists Alice Cooper, Richie Havens, Todd Rundgren and Steely Dan. Rick also recorded with Barbra Streisand, Kiss, Mason Ruffner, and Madam X, Bonnie Tyler, and Air Supply. He co-wrote music and toured with Cyndi Lauper. Derringer discovered Weird Al Yankovic and won two Grammys while producing six albums Weird Al albums. Derringer's productions (and guitar solos) of the Michael Jackson parodies, on the No. 1 hit "Eat It", and "Who's Fat", remain Yankovic's most successful recordings.
Rick was sought out to produce, write and perform on the World Wrestling Federation LP which included Hulk Hogan's theme song, "I Am A Real American". The song has been used often in campaigns and events by three U.S. Presidents.
In 2010, Rick joined Ringo Starr's All Star band for two years for a world tour. Derringer has released over 25 albums including several Blues and Jazz albums most recently. His work can be heard daily on TV and Radio internationally.
Rick Derringer continues to entertain and thrill audiences around the globe. Rick Derringer (All rights reserved copyright 2019)
Discography
RICK AND THE RAIDERS
1963 – You Know That I Love You / What Can I Do – Sonic Records
THE McCOYS
1965 – Hang On Sloopy – Bang Records
1966 – You Make Me Feel So Good – Bang Records
1968 – Infinite McCoys – Mercury
1968 – Outside Stuff – Mercury
1969 – Human Ball – Mercury
RICK DERRINGER DISCOGRAPHY
1970 – Entrance – Guitar, Producer, Soloist – Epic Records
1970 – Johnny Winter And – Composer, Guest Artist, Guitar, Producer, Vocals – Columbia
1971 – Edgar Winter's White Trash – Producer, Guitar – Epic Records
I've Got News For You
1971 – Live Johnny Winter And – Composer, Guest Artist, Guitar, Producer, Vocals – Columbia
1972 – Roadwork – Producer/Guitar – Epic Records Save The Planet
1973 – Still Alive And Well – Composer, Producer, Guitars – Columbia
1973 – They Only Come Out at Night – Producer, Guitar – Epic Records
1974 – Shock Treatment – Producer, Guitar – Epic Records
1974 – Saints and Sinners – Producer, Various Instruments – CBS 1974 – John Dawson Winter III – Composer, Guitar – Blue Sky
1975 – Jasmine Night Dreams – Guitar – Blue Sky
1975 – The Edgar Winter Group with Rick Derringer – Producer, Guitar – Columbia/Blue Sky
1977 – Derringer Live – Wounded Bird
Rick Derringer and The New McCoys All rights reserved copyright 2019
1980 – True to the Blues: The Johnny Winter Story – Producer, Guitar, Composer, Vocals – Columbia/Legacy
1983 – I Play Guitar – Passport Records
1988 – Even Worse – Guitar, Producer – Volcano
1996 – The Real Deal – Guitars – P.E.R. Records/IndieBlu Music
1998 – Live In Japan – Producer, Composer, Vocals, Guitar – Synergie OMP
1998 – King Biscuit Flower Hour: Rick Derringer & Friends – King Biscuit Entertainment
1999 – Winter Blues – Composer, Guest Artist, Performer – Pyramid Record
1993 – Hats Off To Stevie Ray – Roadrunner Records/Blues Bureau Records
1994 – Cream Of The Crop – Roadrunner Records/Blues Bureau International
2000 – Live At The Paradise Theater Boston, Massachusetts – Phoenix Rising
2001 – Doin' Business As – Steamhammer/SPV
2002 – Take Two: The Edgar Winter Group & Rick Derringer – Epic Records
2006 – The Blues Bureau Years: Collection – Blues Bureau International
2007 – You Got That Right – on An All-Star Tribute to Lynyrd Skynyrd
2007 – Fly Away: Live In Japan – Synergie OMP
2009 – Rock Spectacular: Live at the Ritz, NY – Angel Air Records
2009 – The Sky Is Falling – Varèse Sarabande/Fuel
2010 – The Three Kings of the Blues – Blues Bureau International