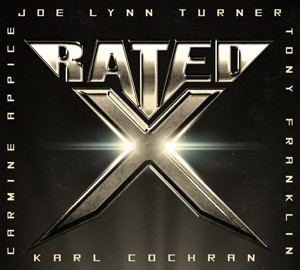 RATED X: HARD ROCK's NEWEST
ALL-STAR BAND RELEASES SELF-TITLED DEBUT
Premieres 2nd Official Music Video,
"Fire and Ice"
Line Up Includes Vocalist Joe Lynn Turner;
Drummer Carmine Appice; Bassist Tony Franklin
and Guitarist Karl Cochran.
Frontiers Music Srl, the label known for embracing new music from legendary Rockartists, returns with yet another impactful band: RATED X. The self-titled debut album features songs built upon a classic Hard Rock foundation, with a distinctly contemporary edge.
The band has shot and released its 2nd official music video, this time for the song "Fire and Ice", one of the album's most powerful tracks. A straight performance clip, the edgy black and white video focuses on the band's musicianship and Turner's soaring vocals. View the video for " Fire and Ice" here: http://youtu.be/HLtxuXhdluE
RATED X was formed at the suggestion of Frontiers' President Serafino Perugino, who mentioned to singer Joe Lynn Turner that a band of the highest caliber musicians should be assembled to create an album of classic Hard Rock music. Turner, the former lead vocalist for both Rainbow and Deep Purple and a solo artist in his own right, agreed, and the search for the right players was on. Carmine Appice, who already had a relationship with Frontiers, was on board immediately. A true percussion icon, Appice's resume is one that Rock legends are made of: Vanilla Fudge, Cactus, Ozzy Osbourne, Rod Stewart, Blue Murder, King Kobra and others.
Appice's former Blue Murder bandmate and bassist, Tony Franklin (also known for his work with The Firm, Jimmy Page, Paul Rodgers, David Gilmour, Kate Bush, and Whitesnake), signed up next. After a lengthy search for the right guitarist, they settled on long-time Turner collaborator Karl Cochran, who has also worked with Ace Frehley, and worked in the past with Joe Lynn Turner on his solo albums.
The self-titled debut album is remarkable in that it sounds like a band that has worked together as a unit for years. The songs are powerful and the performances are tight and innovative. Frontiers in-house producer, Alessandro del Vecchio, not only handled studio production but added keyboards on several tracks. Pat Regan (Mr Big, Deep Purple, Gotthard, Kiss, Doro) mixed the album.
Critics are already heaping praise on the release, including Powerplay, who said "Rated X are a real treat; seen through the prism of history, we are bound to add all sorts of references, but this doesn't wallow in them, it exults. The petition for a continuation starts here…". Hard Rock Haven proclaims "If you're a Rainbow staunch aficionado or an avid Blue Murder fan, you know you can't miss Rated X anyway, but if you're just into the contemporary melodic hard rock that has its back-to-roots moments too – be sure to include it on your list of must-haves." Melodic Rock declares "Joe Lynn Turner is in devastating form, ripping through 12 energized classic rock tracks drenched in organ and driven by some tough riffing from Karl Cochran. Drummer Carmine Appice and bassist Tony Franklin reunite for the first time since Blue Murder, delivering the precise ear drum shattering rhythm section expected of both journeymen."
RATED X EPK: https://www.youtube.com/watch?v=mCnxyqlpspg
"This Is Who I Am" official music video: http://youtu.be/jkmWYqztVi8
"Stranger In Us All" lyric video: http://youtu.be/9yg9U1bg-wU
For all things RATED X, please visit: www.facebook.com/RatedXRocks