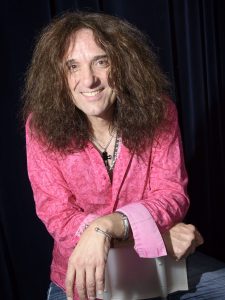 Phil Naro is one of those rare individuals known as a "singer's singer." A staple of both the Canadian and US music scene, Naro has become a mainstay in venues ranging from hardcore rock clubs and music halls to large performing arts centers and massive arenas. Best known as the lead vocalist for Talas (featuring superstar bassist Billy Sheehan) Naro has successfully balanced an in-demand solo career with a number of high-profile projects with other superstar musicians.
Now the career of Phil Naro has come full circle with the release of his new solo album entitled A Life In Song. A collection of hard-hitting original songs, the album shows an extraordinary number of music styles all built around the unmistakably powerful voice of Phil Naro. "My first two solo albums, Press Play and Glass Mountain, had some great material on them, but this record reflects what I believe are the best songs I have ever written," says Naro. "The music industry doesn't always embrace musical diversity, but all the great artists that inspired me such The Beatles, ELO, Led Zeppelin, Rush and The Who were incredibly diverse. They covered many styles of music. I wanted to make a record where each song had its own identity and could live as works of art on its own."
As a record, A Life In Song also features a myriad of rock superstars such as Elliott Easton from The Cars and Empty Hearts; Julian Lennon; Brian May of Queen; former Michael Jackson drummer John Robinson and ex-WHAM/ George Michael bassist Leon Estus, among others. From beautiful ballads such as "Falling In Love" (on which Lennon and May perform), to the Zepplin-ish "Let 'Em Lay, Let 'Em, Die;" to pure pop tracks such as "We Got The Night," and finally the power-charged funk opus, "Take A Walk," Naro delivers an infectious album built on a bed of sonic landscapes.
Born and raised in Rochester, NY, Naro moved to Toronto nearly three decades ago, where he raised his family and set up his base for a thriving music career. Recently he moved closer to the Buffalo/ Canada border and performs frequently in both Canada and the United States.
"I moved to Canada because my first wife was from there," says Naro. "Soon after I moved there, I began working on the vibrant Toronto music scene. It didn't take long before I realized it was a great place to be based; I could work in a major music market and still be close to my family in Rochester."
After finishing school, Naro made the brave decision to only work as a full-time musician. He played in both cover and original bands before landing the gig singing with Talas. While in Talas during the 1980s, Phil enjoyed great success performing with many of the 80's top hard rock attractions including Yngwie Malmsteen, Anthrax, White Lion, Quiet Riot, and Iron Maiden. When Talas broke up after Sheehan formed Mr. Big, Naro began a successful career as singer/guitarist both as a solo act and in a duo named The Phil & John Show.
It wasn't long before Phil Naro became the "go-to-guy" for a number of highly successful tribute shows including Classic Albums Live, and bands performing the music of Led Zeppelin, Yes, and ELO. Says Naro: "Some people in the industry wondered why I chose to work in tribute projects when I already had a career as a national artist doing original material. The reason was simple: it kept me working six nights a week in markets like Toronto and other major cities. That was the best exercise I could give my voice. I knew years ago, if you don't use it; you lose it."
After working with KISS founding member Peter Criss and Canadian rockers Coney Hatch, Naro lent his powerful voice to a number of modern-day prog rock bands. He co-wrote and recorded several tracks with guitarist and founding member of The Rascals, Gene Cornish. Of those, "A Thousand Times," appears on the new A Life IN Song album.
The constant work and great reviews got Naro noticed by other music celebrities who soon wanted to work with him. In 2016, Naro helped form The Platinum Rock All-Stars, a supergroup that features drummer Vanilla Fudge/ Cactus/ Jeff Beck drummer Carmine Appice; Sons Of Apollo, ASIA, ex-Guns N Roses guitarist Ron Bumblefoot Thal; bassist Tony Franklin (ex-Whitesnake, The Firm); and YES / ASIA/ Buggles keyboardist Geoff Downes. "We have only played a handful of shows together because of everyone's hectic schedule," says Naro, "but I really love working in the All Stars. Collectively the members have sold something like 130 million records, and we play all the hits of the groups that they came from. On stage, we have a blast and so does the audience."
In 2019, Talas reformed, toured the US, and got a new record deal. They are currently finishing a new studio album for Metal Blade due out in the summer of 2020.
In the meantime, however, Phil Naro wants to focus on his new solo album and doing his own shows. "I consider myself extremely lucky," he says. "I am honored and humbled to be able to do what I love every day and make music that has made so many people happy. The new album will show a different side of my musicality. It's about what matters to me as a person and an artist. After all, it's my life in song."
FOR ALL THINGS PHIL NARO, PLEASE VISIT
www.philnaro.com
Contact:
Bruce Pilato
Pilato Entertainment Marketing & Media LLC
585-721-6029 • Bruce@pilato.com