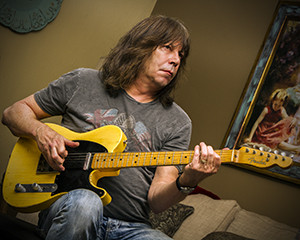 When he broke out in 1979 he was an instant sensation. Pat Travers, guitarist Pat Thrall, drummer Tommy Aldridge and bass player Peter "Mars" Cowling – were unarguably one of the most talented rock quartets ever to perform.
They were also responsible for a pair of bona fide studio classics – their 1978 guitar rock debut "Heat in the Street", and 1980's more musically diverse and critically acclaimed "Crash and Burn". "Go for What You Know" was the musical meat in that sonic sandwich. Thrall's fusion was the perfect foil for Travers, who has always put the melodic tone, and feel of his solos before any fret burning. Aldridge was one of the most noted and flamboyant sticksmen of the era. Cowling was the inspiration, driving the rhythm through his ever solid, yet extremely flexible, four-string work Toronto born Patrick Henry Travers had already delivered a tasty trio of releases before the formation of that formidable four-piece, and would go on to deliver classy melodic eighties rock before a blues period in the nineties, but it's that famous foursome that set standards, kicked your ass, and made such a musical mark.
"My name is Pat Travers, and this is my band…" It's early 2009, and the "Pat Travers Band" has just been recorded live by Rockline Radio. On playback, Rockline's Bob Coburn turns to bass player Rodney O'Quinn and comments:
"I think we caught lightning in a bottle tonight."
To have that happen once in a career is special. To repeat that feat thirty years later may be unique.
The line up responsible for that electrical discharge – Travers, O'Quinn, guitarist Kirk McKim and drummer Sean "The Cannon" Shannon – have been performing together since 2008. Kirk, who has toured with Pat since 2006, is the perfect sparring partner for Travers and a great guitarist in his own right, while Rodney's four-string work compliments the band in a way not seen or heard since the departure of Mars Cowling. When you add Sean's ridiculously powerful but controlled drumming that is the engine room of this unit, you have a Pat Travers Band that is being favorably compared to their famous predecessors of thirty years ago.
And deservedly so.
But Pat isn't looking to the past for his musical future, and proof that future was in (eight) safe hands, courtesy of Messrs, Travers, McKim, Shannon and O'Quinn, came as the second decade of the Millennium dawned… "Fidelis", backed by Alexus Records, was released in 2010, and is quite simply is one of the best Pat Travers releases of any era, by any line-up.
The opener, the hot and rockin' 'Ask Me Baby' and the following number, the slower but no less raunchy 'Edge of Darkness' set the tone early, with the albums rock edge superbly tempered by the lighter tracks such as the excellent 'Stay', and 'When I'm With You'.
But, as Rockline and thousands of fans across parts of North America and Europe already know, this band doesn't just produce the goods in the studio… This Pat Travers Band is also one seriously tight rockin' unit, and live they always deliver. Pat welcomes longtime sticksman, Sandy Gennaro back into the fold. In between dates with the Pat Travers Band, Sandy has been a regular counselor at the World Famous, "Rock and Roll Fantasy Camps" The groove between Gennaro and O'Quinn is a force that is undeniable. There is an energy that is tangible, an enjoyment that is infectious, and, quite frankly, you owe it to yourself to catch this band whenever and wherever you can.
Just don't forget to bring a bottle.
From the streets of Toronto, to the streets of London, now, here to kick your ass… The Pat Travers Band.