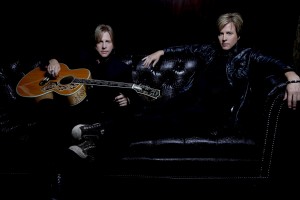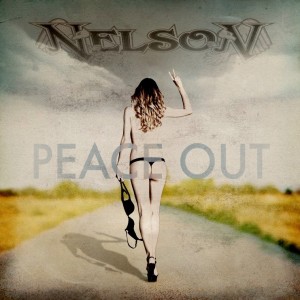 NELSON SOARS WITH PEACE OUT
New Studio Album Returns Band To Classic
Melodic Rock Format. To Be Released By Frontiers Music Srl
May 19th in North America.
In their 25 years as a musical duo, Gunnar & Matthew Nelson, collectively known simply as Nelson, have grown from Pop music idols to seasoned songwriters and performers. Now, as the brothers celebrate a quarter century at the forefront of the international music scene, they return with Peace Out, their most ambitious studio album to date.
Released in Europe on May 15th and North America on May 19th by Frontiers Music Srl. Peace Out marks a return to the well crafted pop songs that put the band at the top of the Billboard charts in the 1990s. From the anthemic "Invincible" to the rollicking soon-to-be pop classic €œBack in the Day,€ Peace Out is quintessential Nelson from start to finish.
"We set a pretty high standard with our previous release with Frontier's Lightning Strikes Twice. That record received by far the most critical acclaim of any Nelson record to date… Peace Out was expected to be even BETTER, so the goal was to push ourselves to the very limit — past what we believed we could do,"€ says Gunnar Nelson. "€œWe wanted to write and record the most exciting, authentic, uplifting, and rockin' Nelson record ever made! The mission: to make a classic."
The brothers have always had their work cut out for themselves, being the third generation in one of America's most celebrated entertainment families, who came into US households every week from 1952 through 1966 on the ABC sitcom, The Adventures of Ozzie & Harriet. Their grandfather, Ozzie Nelson, was a celebrated big band leader, whose orchestra featured their grandmother, Harriet; and their late father, Ricky, was one of Rock'n'€™roll'€™s earliest superstars, a member of The Rock N Roll Hall of Fame, and generally credited with creating the country-rock format.

When the Nelson twins burst onto the music scene with the Billboard #1 hit €œ(I Can'€™t Live Without Your) Love & Affection, in 1990, they set a Guinness World Record by being the only family to have three generations of #1 hits on the charts! Nelson went on to release a half dozen Rock albums selling nearly 7 million records, beginning with the multi-platinum After The Rain.
Peace Out marks their fourth release on Frontiers since 2010. Look for Nelson to embark on a world tour upon the album'€™s release. "€œWe're putting the live show together as we speak… And it will incorporate the very best live songs from our career… Focusing heavily on the PEACE OUT album,"€ tells Gunnar.
The Nelsons have worked in a number of musical styles including pop, hard rock and even country. Now, Peace Out takes them to the musical home they have known the best: harmony-driven pop Rock whose melodies are as infectious as they are lasting.
Peace Out tracklisting:
1. Hello Everybody
2. Back In The Day
3. Invincible
4. Let It Ride
5. I Wanna Stay Home
6. On The Bright Side
7. Rockstar
8. Autograph
9. What's Not To Love?
10. You And Me
11. Bad For You
12. Leave The Light On For Me
PREVIEW NELSON'S PEACE OUT HERE:
https://www.youtube.com/watch?v=9_d0YTF5fro
For all things NELSON, please visit:
http://www.matthewandgunnarnelson.com