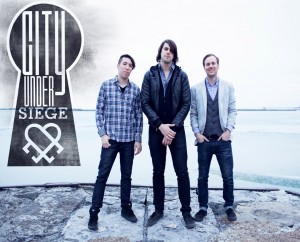 Momentum builds for
Buffalo based alt-pop group,
CITY UNDER SIEGE
Pilato Entertainment. NY: Momentum is building for the Buffalo-based alt-pop band, City Under Siege, who return with a new 7 song EP. After a series of successful showcase gigs at Amped during SXSW, the band is preparing to hit the road to support the disc. A regional radio break out, the band is rapidly gaining industry and fan support across the US.
"Shake," the first single from the new EP simply entitled City Under Siege, was recently premiered exclusively on HUFFINGTON POST.com (the nation's largest website) and the EP was released via Spotify & Pandora.
"City Under Siege has put together an eclectic mix of pop-punk that is fresh but also reminds the listener of other familiar favorites," says DJ Chelsea, Music Director for WLKK- FM 107.7 Buffalo, NY. "Songs such as 'Not Alone' brings to mind Third Eye Blind, while the beginnings of 'Nothing Left to Break' are reminiscent of the Goo Goo Dolls. Where this EP really shines, however, is on its single, 'Shake,' a perfect song for the much-anticipated summertime."
http://www.youtube.com/watch?v=nyhnh6D9lts
"Everything is happening now and the EP seems to be taking on a life of its own," remarked John Wittilinger, lead vocalist and guitarist/keyboardist for City Under Siege. " The two shows at SXSW where great and we made a lot of new friends and fans by playing in Austin. We can't wait to hit the road in support of the new record."
Along with lead guitarist Matt Buscarino, drummer Ryan Weisner and special guest bassist/ vocalist Ryan Dunson (who has divided his duties as front man for Rookie Of The Year and occasionally working with City Under Siege), Wittilinger has assembled a memorable group of recordings that, in the end, make up a fun and catchy CD.
"Believe," the first video dropped from the EP quickly became a favorite video on MTV-U, where it was viewed by an extensive college-aged audience. Other tracks on the EP include: "Love Like That," "On The Run," and "Nothing Left To Break." The EP was produced by Matt Malpass, best known for his work with Train, Reliant K, Rookie Of The Year and many others.
In addition to Spotify and Pandora, City Under Siege will be available on iTUNES and through the band's facebook page, www.facebook.com/cityundersiegeme.
Stream City Under Siege