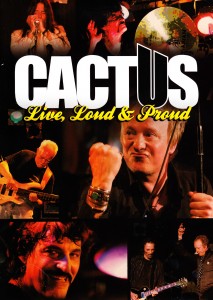 CACTUS – The American Led Zeppelin
– Creem Magazine
Those are tall words, but that is in fact what people were saying about Cactus when this first "Super Group" hit the scene in 1970. Cactus flamed out brightly after only four albums at the end of 1972. With rockers such as Van Halen, Monster Magnet, Kings X, Billy Sheehan, David Coverdale, Kid Rock and Ted Nugent having been documented in interviews as fans of the loud and proud '70s sensation, Cactus's mark in Rock and Roll history is undisputed.
Cactus is back and €œThe American Led Zeppelin is coming at you with tour dates in both America and Europe. All told, those of us who were too young to have seen Cactus in the 70's are in for a treat.
The current Cactus lineup includes original members Carmie Appice, Jim McCarty along with Jimmy Kunes (vocals), Randy Pratt (harmonica) and Pete Bremy (bass).